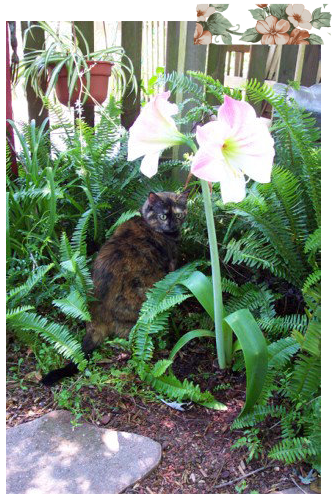 Tiger Lily passed away in June 2012.

We had her for 19 long years, which would have made her 20 years old.


(That's half of my parent's marriage).



She was a part of our family for so long. One day I just casually told my mother how much I missed having a cat, like I did when I was a kid, and I believe it was only 1 or 2 days later that Tiger Lily came into our lives. She'd been attacked by a dog or cat, and for days she wouldn't come down from our big tree in our front yard. We didn't know her back story or age, but were pretty sure she was around a year old.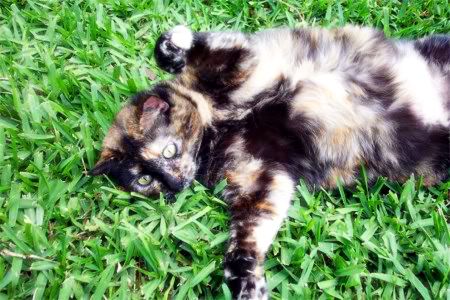 It didn't take long for her to adopt us. She was a no-fuss, street wise, independent feline that mellowed quite a bit the older she became. She was always known as our "cool" cat with the extra toes; Hemingway Claws they're called. She was a character, too. She gave birth to her kittens inside our couch, and even the grass catcher of the lawn mower.

She will be missed.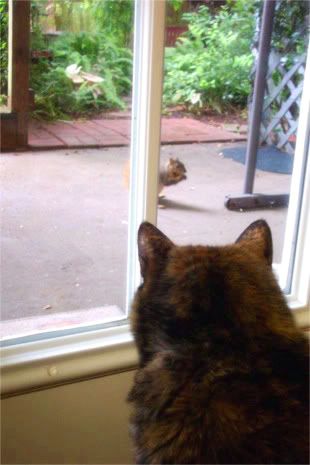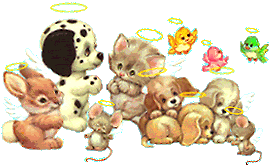 This is what Mom wrote on Facebook:



"Our old lady cat, Tiger Lily, passed peacefully this morning.
What a good girl she was. When Lance was a young boy going out and about with his friends skating or whatever he was doing, she followed him like a dog. She sat in the shade while he played and then followed him home when the day was done! Sweet, sweet memories, kitty girl!"

~

♥

~♥~

♥

~♥~

♥

~♥~

♥

~♥~

♥

~

And here's Tiger Lily's entry from our pets older blog:




- "My name is Tiger Lily, and I am the mother of Wendy Kitty only in the biological sense."

- "Seeing as I'm the matriarch in the family, I pretty much rule the roost around here."




- "I have been known to chase big dogs before."

- "I love drinking from the bathroom faucet, and often answer only to the name Kitty Girl."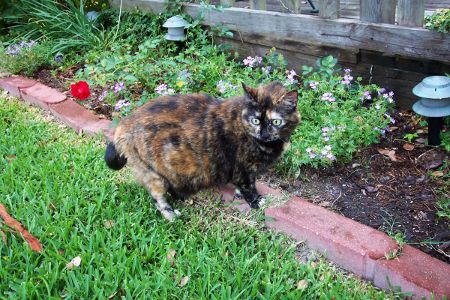 - "My favorite word to say is 'Mom.' I meow it very LOUDLY during the night."

- "I have been known to give birth in the grass catcher of the lawn mower and underneath the couch. When Wendy and I had litters at the same time, we swapped some of our kids. That was the only time that we really got along."

- "At our old house, I loved to lie in the upstairs bedroom window even though I fell out of it all the time."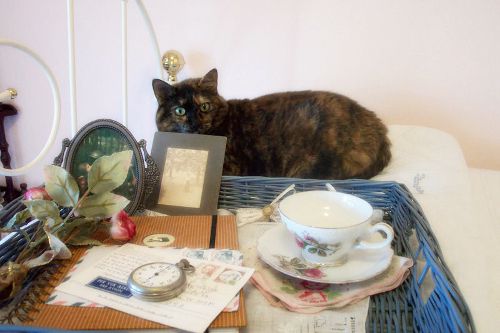 - "I adopted my family myself. I was stuck up in a tree, injured, and decided on a whim not to leave. The people there fed me and gave me shelter, yet all expected of me was to sleep the day away. I thought it a great place to live the best life a cat could ever have, and so I still stay put."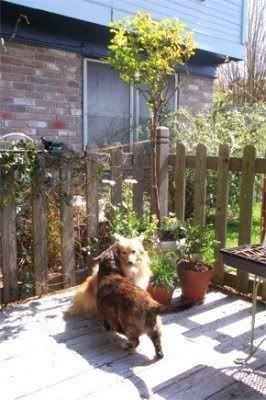 - "I am unique in that I have Hemingway claws; that would be extra toes, just as Hemingway's cats possessed."

- "I love sleeping in the laundry basket, and since I'm a cat of many years, Mom lets me sleep in it all the time now. She even placed it at the side of her bed, layered with bunches of comfy blankets."